(July 11, 2015) – Today marks the 20th anniversary of normalization of diplomatic relations between the United States and Vietnam. On this occasion, Khanh Hoa Provincial People's Committee, in collaboration with Nha Trang peace and Innovation Village Corporation and Boston Global Forum, held a full-day scientific conference on "Peace and Innovation" in Vinpearl Resort, Nha Trang, Khanh Hoa.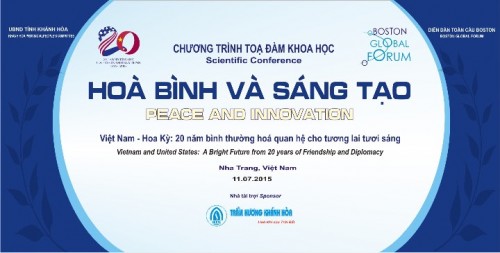 The conference focus on discussion on strategy for sustainable development of Nha Trang and to build it to be a centre of innovation in culture and technology in East Asia. Delegates includes scholars and leaders from Boston, New York, Tokyo, India, and Vietnam.
Professor Joseph Nye sent his best wishes to the conference, and also shared that the relationship will be advanced by mutual trust and respect among two countries.
Read his full speech here:
On July 11, 1995; President Bill Clinton announced the formal normalization of diplomatic relations between the United States of America and the Socialist Republic of Vietnam.

The Vietnam – U.S relationship has been prospering over the past 20 years, and Vietnam's economy has also prospered as the result of the normalization of relations between two countries.

I had a chance to visit Vietnam, met and had a great conversation with the Prime Minister Nguyen Tan Dung in 2010, which marked the 15th anniversary of normalization of U.S – Vietnam relations. That was a very interesting conversation, and I returned to Harvard believing that the relations between two countries would progress steadily. That proved to be true. We have witnessed incredible developments in U.S-Vietnam relations over the past 5 years. And I do believe that U.S-Vietnam relations will continue to grow and prosper in the future.

In order for Vietnam to attain more sustainable social and economic achievements, we need a deeper understanding, mutual  trust  and mutual respect among two countries. Just few days ago, on July 7, 2015, President Obama received and had a dialogue with  General Secretary of Vietnam Communist Party, Nguyen Phu Trong. This visit indicated that American government respects Vietnam's political institutions even when there still exist differences.  Advanced cooperation requires mutual trust between leaders of two countries. I hope that leaders of two countries will be able to increase their trust in each other in the future.

The United States is an important partner in areas of financial investments and innovative economic developments. America can be the source of advanced technologies which will help Vietnam move forward with its development in the long term as well as to protecting its environment. America is the ideal partner for Vietnamese to write their own miracles such as South Korea and Singapore have done.

America also is an important partner in maintaining peace and stability in South East Asia. America wants to promote cooperation, peace and stability among all countries in the region in order for them to rise and prosper. As a part of efforts to do this, I and Governor Michael Dukakis led several international conferences of Boston Global Forum to build the Framework for Peace and Security in the Pacific.

We highly appreciate the Governor Nguyen Chien Thang's valuable ideas of creating a tightened relation between Nha Trang, Khanh Hoa and Boston, Massachusetts which would be a symbol of Vietnam-US relations, and the idea of building Nha Trang Khanh Hoa to be an innovative centre of technology and culture in the East Asia. Boston will be an ideal partner, and the community of scholars and intellectuals in Harvard, MIT and other Boston universities are always ready to help Nha Trang Khanh Hoa to complete that dream.

I hope that the relationship between Vietnam and the U.S will see comprehensive cooperation in several fields in the future.
– Joseph Nye- 
University Distinguished Service Professor, Harvard's Kennedy School of Government;Member of Board of Thinkers, Boston Global Forum