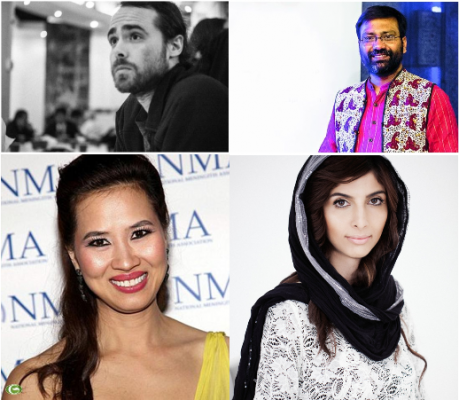 (July 1, 2015) – The Boston Global Forum selection committee has named four successful candidates to the Michael Dukakis Leadership Fellow Program. The Fellows will engage in a year-long program, starting in September, to promote Global Peace and Security.
The Fellows will focus on real-life solutions to conflict in the Pacific, cyber warfare and terrorism, and other modern-day threats to global peace.
The new Fellows are:
Bill Ottman, founder and CEO of Minds.com – a free, open-source and encrypted social networking platform and mobile app, which has opened up a new wave of social media;
Roya Mahboob, CEO of the Afghan Citadel Software Company, a full-service software development company in Afghanistan, and TIME magazine's 100 Most Influential People In The World for 2013;
Shubhranshu Choudhary, a Foreign Policy's Top 100 Global Leading Thinkers of 2014, and founder of CGNet Swara – an Indian mobile phone ser­vice that allows citizens to upload and listen to local reports in their own dialect without a smartphone or an internet connection; and,
Nguyen Thi Chau Giang, a celebrated pianist and artist, and cultural activist who leads the humanitarian mission of her organization, International Friends for Vietnam in America, whose goal is to develop musical talents in her homeland.
The Fellowship program, named for former Massachusetts Governor Michael Dukakis, co-founder and chairman of Boston Global Forum, was established to engage young leaders in the promotion of global peace and security.
During the 2015-2016 Program, Fellows will develop and advance an action-oriented plan for peace and security by working with leaders of Boston Global Forum, high-profile scholars with Harvard and MIT, and other media, government, and international relations leaders.
The Fellows will participate in events and symposia associated with Boston Global Forum's Young Leader Network for Peace and Security. As part of their role, the Fellows will promote adoption of a universal Ethics Code of Conduct for Cyber Peace and Security.
The Fellowship Program aims to enrich the Fellows' leadership capability by initiating solutions to global problems; engaging youth in the promotion of peace and security in the world; providing opportunities for self-development, and facilitating a dialogue among high-profile young leaders and policymakers from several nations.
About the Michael Dukakis Leadership Fellow Program
The Michael Dukakis Leadership Fellow Program was initiated and is fully funded by the Boston Global Forum. Governor Dukakis, who has devoted his life to the promotion of world peace and democracy, founded Boston Global Forum in 2012 with Harvard Professors Thomas Patterson and John Quelch, and Nguyen Anh Tuan, founder of VietNamNet, and online global newspaper.
The Forum identifies the most impactful issues facing the world and provides practical and meaningful solutions to these problems.  Governor Dukakis and Harvard Professor Joseph Nye, a member of the Boston Global Forum Board of Thinkers, have led several initiatives to build a Framework for Peace and Security in the Pacific in 2014. Earlier, the Forum played a role in improving worker conditions in Asia's factories.
The Fellowship program was established in an effort to engage youth leaders in the furtherance of the Framework, and to enrich their leadership capability in the interest of greater global peace and security.